Preparing for a summer day camp is much simpler than packing for an overnight camp. Kids need to pack some essentials but they get to go home and clean out their bags at the end of the day. However, it's still important to pack in advance so you're not rushing the night before. If it's your child's first time at day camp and you're not quite sure what's suitable, continue reading! Our team has compiled a list of some items your child needs to bring to camp.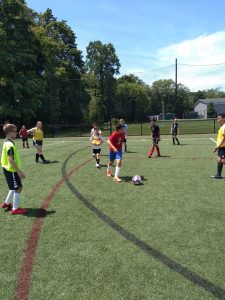 Swim Gear: Does your summer camp have a pool, lake or beach nearby? If so, make sure a swimsuit is packed along with goggles, a towel and clean clothes to change into. 
SPF & Lip Balm: Pack a waterproof sunscreen and talk to your child about how long they should put it on for before getting in the water. We recommend an SPF that is 30 or higher and reapply the sunscreen every two hours.
Water Bottles: A labeled water bottle will be helpful for camp as it's important to stay hydrated. It's also good to stay away from plastic bottles.
Backpack: At a summer day camp you don't need a chest or duffle bag to carry belongings. A backpack or tote bag is a great way to keep belongings secure and a bag with extra pockets allows you to easily organize items. 
Extra Clothes: With all the running around at summer camp, kids can get dirty especially on a rainy day. Pack an extra shirt, shorts, and rain jacket or a sweater in case it gets cold.
Something from Home: Although kids get to go home at the end of the day, new campers (especially younger children) might get homesick. Pack something that reminds them of home so they can take it out when they're feeling anxious. This can include a note, photos or a favorite toy. 
About Summer @ BB&N
Our exciting summer day camp is located in Cambridge, MA – a beautiful area situated just outside the historical city of Boston. Our state-of-the-art Nicholas Athletic Center includes two tennis courts, an exercise room, wrestling room and double gymnasium. Along with this, we have a fully stocked boathouse along the Charles River.
Some activities offered at our summer camp include:
We also provide campers with nutritious and delicious snacks and lunch such as beef tacos, hamburgers, hot dogs, meatball subs, grilled cheese, macaroni and cheese, and more. When it comes to hydration, our team takes this very seriously which is why we've set up large water stations around the campus for kids to fill up their water bottles.